Above is attached a WordDoc for my Tutor's written feedback for my first assignment.
Overall Comments
A successful piece of work based on good preparation that meets the brief.
Feedback on assignment
Demonstration of technical and Visual Skills, Quality of Outcome, Demonstration of Creativity
Notes on, and in addition to, video tutorial [You need to regularly send your notes of the tutorial to me]
Mental note to always remember to send my Tutor the link to my blogged video chat.
The theme of my assignment was environmental portraits the challenge was a COVID pandemic that naturally made finding willing subjects difficult, I therefore chose to use my wife as subject and our home as the environment. As subject matter I have attempted to illustrate different aspects of my wife's character each has its own identity. (Sarah the soap maker, Sarah the ranter, Sarah's hidden self.)
This is an interesting dissection of someone into roles. These are then performed (for the camera).
These are all the different Sarah's that I know and therefore I felt that I must be present in the picture the observed as seen by the observer.
It is important to engage with the male gaze – see Berger, for example. It matters who looks and presents. You have not flinched from referencing yourself.
My Response:
Berger writes, Men act and women appear. Men look at women. Women watch themselves being looked at. This determines not only most relations between men and women but also the relation of women to themselves. The surveyor of women in herself is male: the surveyed female. Thus she turns herself into an object – and most particularly an object of vision: a sight. (Berger, 1972, p,47.) Berger illustrates a painting by Trutat, Reclining Bacchante (1824-1848) this picture is a little like the idea I used for my photos, of a women being observed.
also, Édouard Manet, Un bar aux Folies Bergère (1882) from whom my idea originated.
I took my ideas from Larry Sultan, Tina Barney and Cindy Sherman, Sultan and Barney helped me with the idea of using home and family and Sherman for the construction of the picture / mise-en-scene. The idea of constructing the scene was not new to me as I learned this in my OCA course, Setting the Scene. My Tutor pointed out that this construction is what Barthes called the studium (Barthes, (2000) p.26.)
It could be discussed using studium, there are many ways to read photographs. Denotation/connotation would work equally well here – Bate discusses it well.
My Response:
Bate wrote: The apparent innocence of the photograph is what Barthes identifies as the paradox of photography, which 'seems to constitute a message without a code' (Barthes, 1977, p.17) Fundamentally, photographs are convincing because they hide 'behind' the referent, the thing in the picture….This seeming 'innocence' of photography is part of its rhetorical power…Photographs give the illusion of a transparent access to 'reality' as the real 'language' of photography.
Barthes premised this rhetoric of an image in the distinction between the denotation and connotation of a picture. A denotation is 'what we see', what can be described as simply 'there' in the picture. Connotation is the immediate cultural meanings derived from what is seen, but is not actually in the picture. (Bate, 2009, p17).
My last photo of the series does not include my wife, this image is to try to convey an idea of the hidden Sarah, the identity that she keeps to herself. I used the ornaments and pictures that are around the dressing table in our bedroom that I think sums up her full character and that also includes an idea of her hidden self through the Venetian mask and my reflection that appears to be trying to get a peek through the curtain.
Look for other references for this – it has a long tradition in art.
My Response:
Here are different examples that I have found where artists have used objects and methods to express the hidden referent in order to convey the intended ideas to the audience.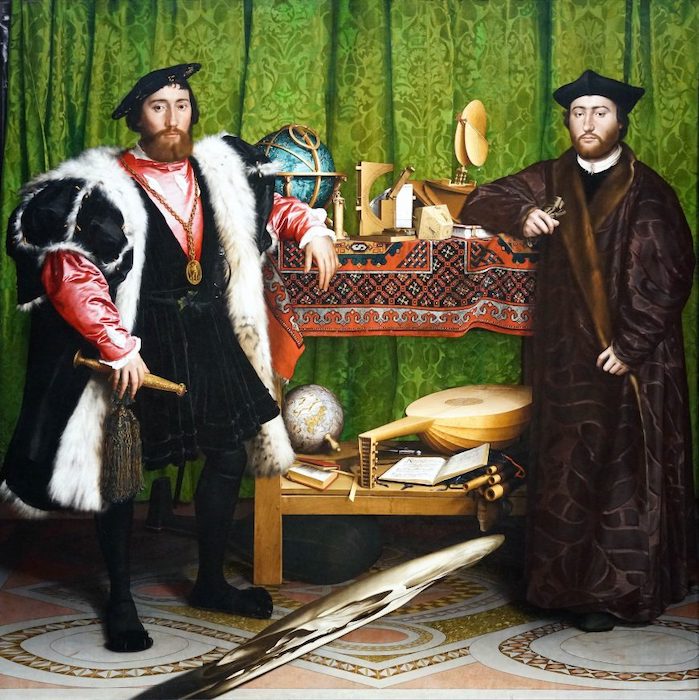 Hans Holbein the Younger's The Ambassadors from 1533. the choice of objects suggest wealth and opulence and the distorted skull is a signifier for mortality, note the shadow for the skull appears to lay in a different direction.
Roger Fenton, Valley of the Shadow of Death, (1855) an example of 'late' photography to illustrate the heavy bombardment near Sevastopol, Crimea.
Caspar David Friedrich, Wanderer above the Sea of Fog, 1817. We can not see the face of the figure; but the overall image connotes the idea of the sublime.
This last picture was inspired by a book I recently read that suggested ideas for photography, Lee Smolin, Three Roads to Quantum Gravity, (2000) New York: Basic Books. My tutor pointed out that choosing the order for the photographs when creating a series is important and in my case only the last picture, that of the idea of the hidden Sarah was important to be placed as the last of the series. But in other cases a picture order is important as part of the editing control for the intended narrative. My Tutor also discussed the question, would my photographs be read differently through the gaze of a female than a male? He speculated that two independent assessments, one from a male Tutor and one from a female Tutor might have interesting results.
My Tutor has recommended that I read a book by Ervin Goffman, The Presentation of Self in Everyday Life as my photographs appear to be in tune with this book and so I have ordered a copy from Amazon and will read and blog it very shortly.
You have orchestrated and captured performances in a transparent way. It would be useful to critique this.
My Response:
My critical review: My Other Half – A critical self-review.
For my next assignment, Social Themes, my pictorial essay will be about feelings of isolation through being furloughed. My Tutor suggested that I consider who my audience would be other than my Tutor and the college and how it could relate to their own experiences. This I thought was a very good suggestion and keeps in mind about finding that illusive punctum that Barthes discusses (Barthes (2000) p.27.)
Consideration of audience can be used to guide your creative process. Bathes implies that we, photographers, are unaware of the potential creation of a punctum – it's in the eye (born of their unique experiences) of the beholder. But we all share common ground and can be moved by the same things across time, culture and society.
For A2, how much of 'you' will be in it? How much will the inquiry reflect shared concerns? Much photojournalism, for example, is premised upon bearing witness, but of whom, and to whom? If you have little or no audience then perhaps those you work with should take priority.
Coursework
Demonstration of technical and Visual Skills, Demonstration of Creativity
Good evidence on your blog. Thoughtful reflections.
Research
Context, reflective thinking, critical thinking, analysis
Decent research on the learning log showing that you are engaging with the course materials and extending.
Learning Log
Context, reflective thinking, critical thinking, analysis
Clear, well written and laid out.
Suggested reading/viewing
Context
See the references above.
I often discuss 'signposting' – letting readers (including yourself when reflecting) know when and where you have learnt something. So in your blog, highlight references, highlight your thinking (both with and without the camera). Particularly at the early stages of academic study, and especially in the arts, nothing is too small or apparently obvious a detail. A seemingly small development in any one of these assignments (or exercises) could be key to your practice in the future.
Using the arguments put forward by critics will help you gain understanding and progress your engagement with photography. Which is why its so important to read as much, and as widely, as possible.
Here's an interim reading list that I send out to all students, whatever their level, some of these are included in the reading for various modules, and you may already be familiar with them –
John Berger: "Ways of Seeing" *
Graham Clarke: "The Photograph"
Ian Jeffrey: "Photography: A Concise History"
Susan Sontag: "On Photography"
Roland Barthes: "Camera Lucida"
– five relatively old but excellent entry points into discussing photography.
Susie Linfield: "The Cruel Radiance: Photography and Political Violence"
– contemporary, personal and easy to read, much of it in response to Sontag and Martha Rosler
Liz Wells: "Photography : A Critical Introduction" and "The Photography Reader"
David Bate: "Photography: Key Concepts"
Stephen Bull: "Photography"
Charlotte Cotton: "The Photograph as Contemporary Art" *
Susan Bright: "Art Photography Now"
David Campany: "Art and Photography"
Ashley la Grange: "Basic Critical Theory for Photographers"
-essential, (at least the first four) contemporary general photography works
Gerry Badger: "The Genius of Photography: How Photography Has Changed Our Lives"
* also on DVD or online
Mark Durden: "Photography Today"
Steve Edwards: "Photography: A Very Short Introduction"
* It really is short!
[no author / Phaidon]: "The Photography Book" *
Martin Parr / Gerry Badger: "The Photobook: A History"
Geoff Dyer: "The Ongoing Moment" *
Mary Warner Marien: "100 Ideas That Changed Photography" *
– for when reading gets too heavy!
Anne Jaeger: "Image Makers Image Takers" *
– insights from photographers, commissioners and writers
* Asterisked books are the most accessible
Put any reflections or reviews on your blog.
Some online resources –
http://www.americansuburbx.com
Summary
| | |
| --- | --- |
| Strengths | Areas for development |
| Constructed imagesWorking with the subjectReferenced | Show fully how you arrived at your choicesContextualise with contemporary practice and wider culture – esp male gazeFollow up on research points |